Synastry
Synastry is an astrological technique for gauging the compatibility of two people, typically as marriage partners.
To cast a synastry chart you would do the following:
Enter the nativity details (see Event Data) of one partner, by inputting new birth data or by selecting from the Database,
Click the "Background data form" button in the Event Data window, and input the birth data of the second partner as above. Do not omit to set the gender of the persons, as this is utilized in the computer-generated reading of the synastry,
Click the "Chart Type" button to bring up the Chart Type Selector window,
Checkmark Synastry in the list of chart types,
Click the "Execute" button of the Event Data window to erect the chart,
If you have synastry interpretation texts available, you can now click the "Texts" button on the Toolbar, or select "Horoscope" | "Interpretation" from the main menu, to display the Interpretation Setup window:

Complete the settings as shown above, and click "OK". You will then see something like this:
---
Interpretation of Synastry
Diana, Princess of Wales
1 July 1961 19:45 (GMT+1)
Sandringham, England (52n50 0e30)

Charles, Prince
14 November 1948 21:14 (GMT)
London, England (51n30 0w10)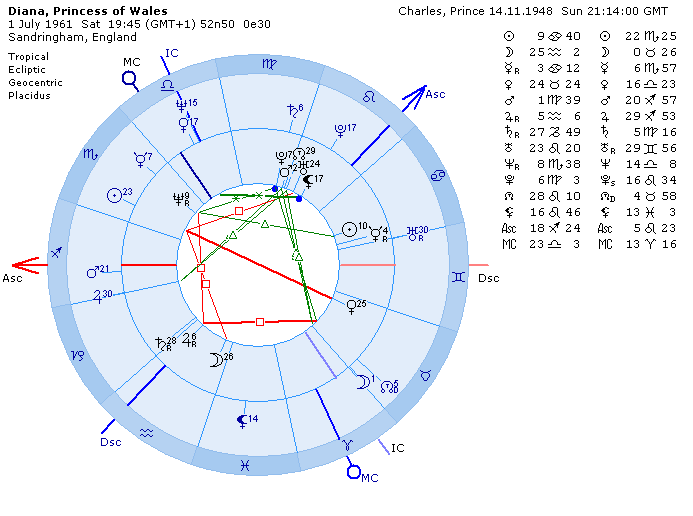 * Diana's Moon Square Charles's Sun ( 92.6°)
Essentially, Diana, this is an aspect of mutual interference: ego conflicts, differences of opinion, personality clashes, problems in co-operation and difficulties in marriage are probable. However, these problems are not insurmountable providing many other positive indicators are present.

* Diana's Uranus Square Charles's Sun ( 89.1°)
At the beginning of this relationship Charles, probably found you fascinating, exciting and magnetically attractive. Your unique qualities and original concepts certainly had an effect on his personality. However, in time, and after many shocks to his system, Charles, may come to view you as unpredictable, often unreliable, freedom loving, somewhat eccentric and too independent by half. Likewise, you may regard him as bossy, demanding, restrictive and uncooperative, lacking vision and a sense of adventure.

* Diana's Venus Opposition Charles's Sun (178.0°)
An excellent mutual aspect, Diana, - sexual attraction, romance and possibly marriage is indicated. There is a strong emotional rapport; you enjoy each other's company, share common interests and have lots of fun together. As a couple you should be socially popular and have lots of friends. However, some disagreements are probable and on these occasions Charles, regards you as frivolous, extravagant, emotional, lazy and out for a good time. In response, you argue that he is uncaring, arrogant, bossy and lacks sensitivity. Nevertheless, these differences are soon resolved.

* Diana's Mars Trine Charles's Moon (121.2°)
This aspect, Diana, helps to energise and emotionally stimulate your relationship - strong sexual attraction should mature into a rewarding and mutually fulfilling sex-life. Your high level of compatibility suggests that you get on well together in the home. You certainly make a good team and co-operate effectively in any domestic, social, sports and financial activities.

* Diana's North Node Trine Charles's Moon (117.7°)
An emotionally satisfying social life is suggested by this aspect, Diana,. It is probable that your home is used as the focus of all activity.

* Diana's Pluto Sextile Charles's Mercury ( 60.9°)
With this combination, Diana, it is likely that you will have a transformative effect upon Charles's mind. You bring him into contact with revolutionary concepts of life that he finds intellectually fascinating. This is an association that can irrevocably change Charles's mental view of life - politics, social reform, scientific work, spiritual development, depth psychology, occult work and life-after-death issues are just some of the possible areas of mental diversion. You gain through Charles's ability to formulate and structure your ideas and beliefs regarding social, political or domestic reform. As a couple you are probably involved in many self-improvement projects.

* Diana's Jupiter Square Charles's Mercury ( 88.1°)
With this aspect Diana, it is probable your religious, ideological or social views may be in conflict with Charles's philosophical ideals. This situation may create some mental or moral confusion and an occasional lack of mutual understanding. However, this should not prove too much of a handicap in your relationship providing that you both exercise a degree of kindness and tolerance for each other's personal ideals.

* Diana's Sun Trine Charles's Mercury (117.3°)
This combination of planets is very favourable for intellectual friendship and mutual co-operation. You tend to stimulates Charles's mind and encourages new ideas, and in return he provides inspiration for your creative projects. This is a very helpful aspect for any kind of relationship because any differences of opinion are discussed and soon resolved through plain common sense.

* Diana's Mars Trine Charles's Jupiter (118.2°)
This in an excellent aspect, Diana, because it indicates that, as a couple, you are likely to achieve prosperity or increased social status. This will be attained through mutual co-operation and intelligent constructive effort. You find Charles's philosophical, religious or social ideals attractive and it is probable that you channel a great deal of your energy into a joint social enterprise or some educational self-improvement project. There may be a mutual love of sport or some other outdoor pursuit.

---