Local Space Map
Local Space Map is not available in the Lite version of ZET.
The "Local Space Map" function is a variant of Local Space Astrology for nearest surroundings, e.g. apartment, city, and so on.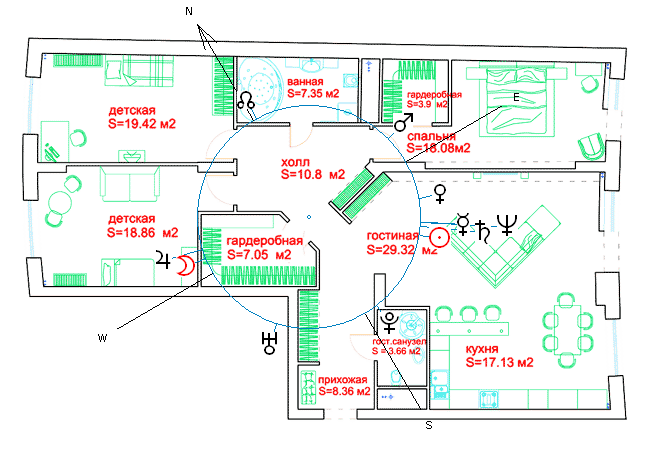 To draw the Local Space Map you should do following:
Get a draft of apartment (or map of city) as a BMP-format image file.
Setup a horizontal coordinate system (Chart Settings, Zodiak).
In case of dual chart to switch off the "Horizon of first chart" option.
Specify the path to image file. See "Chart Settings", "Misc.(5)" tab.
Switch on a "Local Space Map" option.
Locate at the screen a centre of planet's ring to a center of image (the center of apartment or your location in current area) by drug-and-drop a planet wheel or by chart positioning tools at "Size" tab.
Get orientation of an image by compass or any other (north-south direction). If you use a magnetic compass, you should check on the "Consider Magnetic Declination" option.
Set this orientation of planet's ring on the image. See Chart Settings, Format tab, East of wheel. Input desired degree.
Set other desired settings, e.g. size, font, and save it as a configuration (the "Configuration" button, "Save configuration" menu item).
---